Escoffier recipe for making Bavaroise, or Bavarian tea, at home (Escoffier 4995).
Bavaroise, is a milk tea (or coffee) with rum or kirsch, served hot. Originally sweetened with maidenhair fern syrup, and later, with simple syrup. It can be additionally flavored with vanilla, orange or lemon.
History of Bavaroise

"The Bavaroise only goes back to the first years of [the 18th century]; and it is owed to princes of Bavaria, when they came to France. During the stay which their Highnesses spent in the Capital, they often went to take tea at M. Procope's. But they asked that it be served them in crystal carafes. Instead of sugar, they had maidenhair syrup put in. The new drink was called bavaroise, from the name of the princes. It was adopted in the cafés, with no other change than to sometimes put in it some milk. Meanwhile, as it was later noticed that the maidenhair took away the flavor and the agreeable odor of the tea, the café owners substituted sugar clarified and cooked to a syrup."

— Histoire de la vie privée des François, 1782.
For the Tea
Brew a pot of strong tea. I used Earl Grey, a black tea flavored with the oil of the bergamot orange. We'll need a total of two cups of boiling hot tea for this recipe.
For the Infused Milk
For orange-infused milk, use the peel of one orange. For lemon-infused milk, use the peel of one or two lemons. For vanilla-infused milk, take one whole vanilla pod, slice it down its length and scrape out the seeds. Put all the seeds and the pod in the milk. Or use a teaspoon or two of vanilla extract, to taste. You can also use chocolate or cocoa powder for a chocolate bavaroise. Mmmmm…
In a small pot, add the peel or vanilla to two cups whole milk, and bring to a boil. Remove from heat, cover and let steep for at least 15 minutes. If using chocolate, add the cocoa and bring to a boil to dissolve all the solids. Then it's ready to use…
For the Egg Batter
In a small stainless steel bowl, mix together 4 eggs with the sugar.
Place over a small point of simmering water and whisk continually until the eggs lighten to a pale straw color and thicken to a "ribbon stage."
That's when it doesn't quite drip, but slowly flows from your whisk in a ribbon. It's important to keep the heat low enough so you don't scramble the eggs, but high enough to dissolve the sugar and thicken the batter.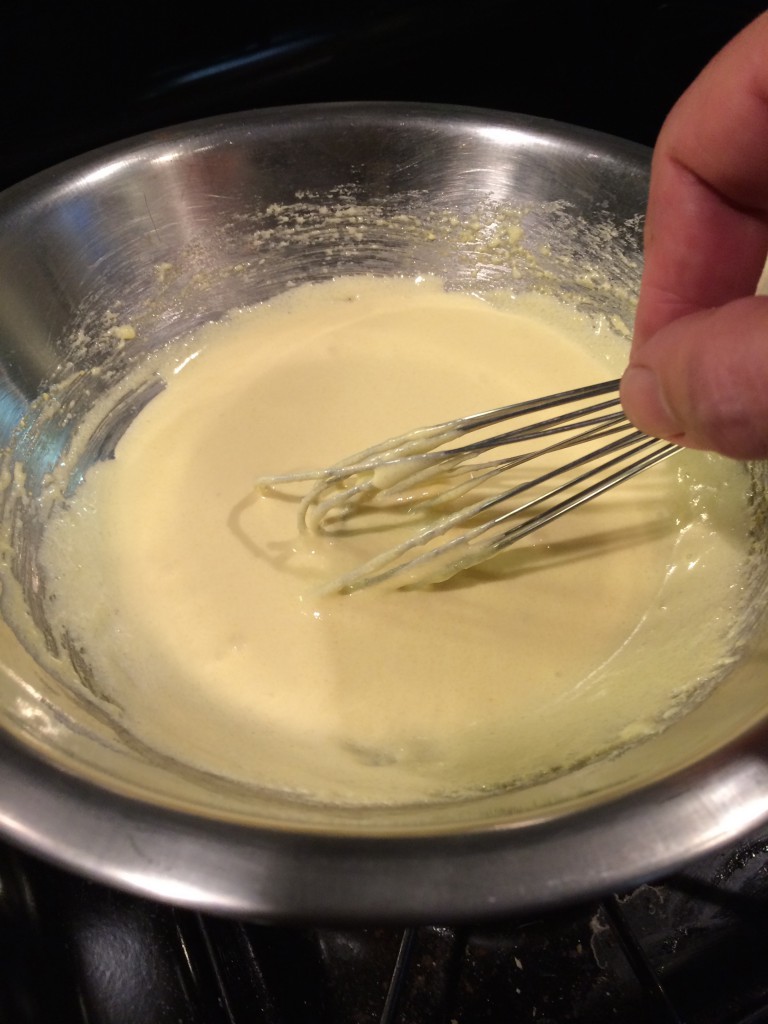 Once you get the hang of it, the same technique is used for making fresh hollandaise sauce and sabayon.
Assembly
Once the eggs are thickened, briskly whisk in the Sirop Capillaire, two cups hot tea, two cups hot infused milk, and alcohol, until frothy.
Serve immediately in teacups, mugs or glassware of your choice. You don't have to, but you could top with chantilly cream.
Cheers, and Happy Holidays!
Ingredients
4 egg yolks
125g (4.5 oz) sugar
100g (3 oz) maidenhair fern syrup or simple syrup
425g (2 cups) hot tea of your choice
500g (2 cups) whole milk
Peel of 1 orange or lemon
210g (1 cup) rum or kirsch
Yields about 12 servings.
From the Books:

4995 Bavaroise

Whisk together 250g (9 oz) caster sugar and 8 egg yolks until the mixture becomes a pale straw colour and reaches the ribbon stage.

Add in sequence, 1 dl (3 1/2 fl oz or 1/2 U.S. cup) Capillaire syrup and 5 dl (18 fl oz or 2 1/4 U.S. cups) each of boiling hot freshly made tea and boiling milk, whisking vigorously so that the whole becomes very frothy. Lastly, add 2 dl (7 fl oz or 7/8 U.S. cup) liqueur, either Kirsch or Rum, which will give its name to the Bavaroise.

If a vanilla, orange or lemon Bavaroise is required, infuse the flavouring in the milk 15 minutes beforehand. If a chocolate one is required melt 180g (6 oz) of chocolate and add it to the milk together with a little vanilla. If a coffee Bavaroise is required infuse 100g (3 1/2 oz) freshly ground coffee in the milk, or flavour with 5 dl (18 fl oz or 2 1/4 U.S. cups) freshly made coffee.

Bavaroise is served in special glasses and it must be served whilst still frothy.

— Le guide culinaire: the complete guide to modern cookery, 1921.

---

Prop. pour 10 verres: 200 grammes de sucre travaillé avec 8 jaunes, jusqu'à ce que l'appareil fasse nettement le ruban. Ajouter: 1 décilitre de sirop de capillaire, 5 décilitres de thé fraîchement fait, 5 décilitres de lait bouillant, et 2 décilitres de la liqueur adoptée. Tous ces liquides ajoutés à l'appareil, l'un après l'autre, en froulant vigoureusement avec un fouet pour le faire mousser, et la liqueur, quelle qu'elle soit, mise en dernier lieu. Dresser en verres spéciaux, et à l'état de mousse.

— Le guide culinaire, 1903.